You may remember these two fantastic faces from their glorious Engagement Adventure in Salem and at Hammond Castle.  It was such a blast of a day, but that was only the beginning…
Cue wedding day:
When we arrived at the Tewksbury Country Club for Adrienne + Kevin's long awaited festivities, we could almost feel the excitement in the air.  As I got to the bridal suite I was greeted with huge smiles, big hugs, and my expectations of a wonderful day were already beyond met.  What I didn't realize was just how much more amazing it was going to get …
Being that I'm such a visual person, I have a natural affinity for lavish details, such as all of their paper goodies.  Feast your eyes upon these!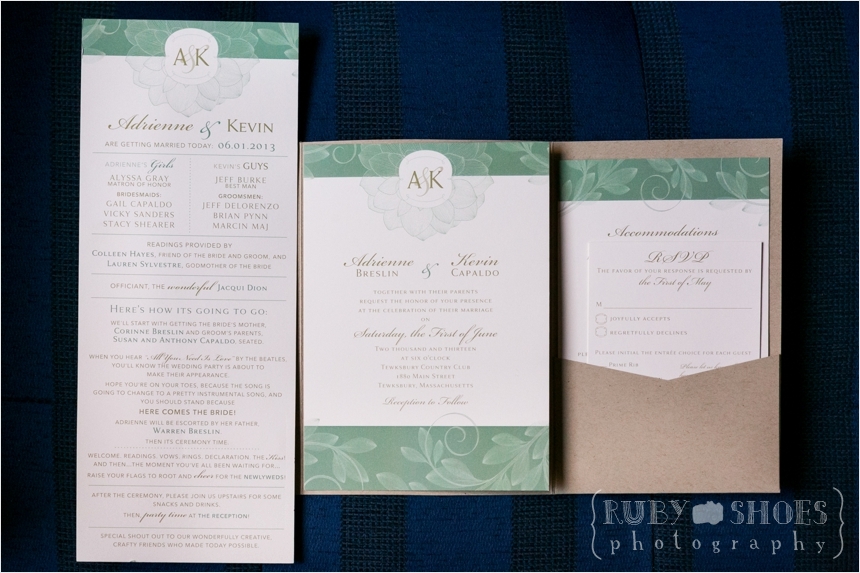 When I went to visit Adrienne + Kevin (+ Ella, their super-pup) at their house for their RSP Wedding Day Details + Timeline Meeting to finalize all their plans to optimize their big day, Adrienne immediately got very excited, and lead me directly into what she said she turned into her "wedding craft room," which was covered from floor to ceiling with DIY projects big and small for *everything* wedding.  It was impressive, to say the least!  Here is just one example of all of her hard work which made their wedding vision come to life.  There are many more to come – just you wait!
And her dress.  I mean, are there any words?  It's simply outrageous.  <3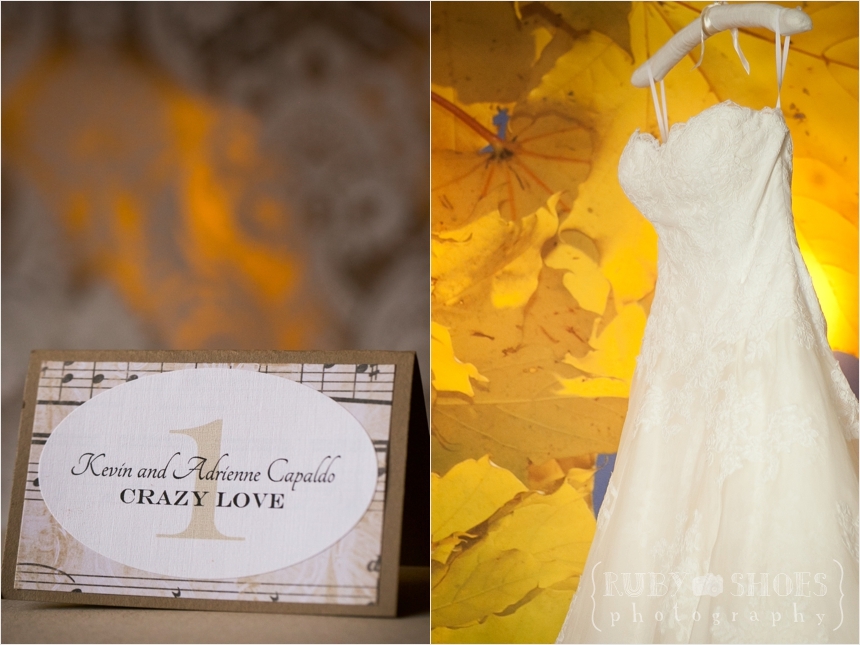 Girls, girls, girls.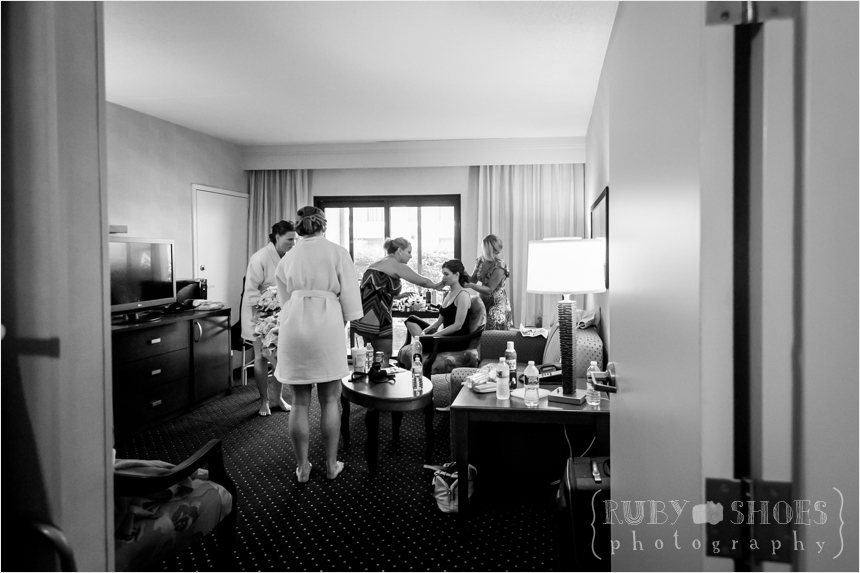 One of my favorite things about these two is that they opted to wear their glasses as they do on a daily basis.  Because it's 100%
authentically
who they are
.  Adrienne even got a special set of
Kate Spade
glasses to wear just for her special day!  The second I laid eyes on this glasses case (
see
what I did there?), I was unstoppable – I HAD to create this image.


Oodles of great details… 
















Her lovely hubby-t0-be delivered a special slushy he knows she loves so much.  All together now, "awwww!"


Such a beauty inside + out!






Aren't their custom robes great?  It was a sweet and useful gift for her lovely ladies.


Dress time – and what a stunner it was!




Once Adrienne was ready head to toe, her father made a special stop in to see her before she went out for her First Look with Kevin.  It seemed early in the day for the tears to begin, but it was inevitable, even for me.






This is one of the coolest gifts I have seen a bride give her groom;  a custom keychain made with the
exact
coordinates on the bridge where they would commit themselves to one another for the rest of their lives.  It was (and is) such a great idea being that it's so unique and thoughtful.  A big thanks, L, for knocking it out on the groom's prep (yet again)!


I know I have mentioned Kevin's favorite store –
Bodega
– for the latest and greatest footwear, so naturally he got a pair just for their wedding.  Little did he know Adrienne got him a surprise 2nd pair!


Dudes doin' dude stuff.






Socks that rock.  (By
Express
.)






Once Kevin was ready to go, it was time for a few portraits on his own.  He made it easy on us!  They are both so much fun to be around that it's easy to forget the cameras are out.






A few bridal portraits before the two would first lay eyes on each other on their wedding day… I just adore these few.  
Audrey Hepburn meets Marilyn Monroe, anyone
?


They hadn't even see one another and the tears had already begun… (again, not excluding me).




Kevin's face?  I mean just so, SO good.  This is what it's all about!!










I love lamp!






Since it was rather (OK, extremely) hot that day, we opted for the First Look and a portion of their portraits inside to preserve their comfort levels for as long as possible.  Luckily, the interior of the lobby had great natural light and interesting furniture which allowed for a large variety of images in a relatively small space, and within a relatively short timeframe.


Just.  What?  I dare you not to smile.  (Robots need not apply.)




There happened to be this great mural of leaves inside the hotel as well.  From the instant I walked in and saw it, I knew I would return, with the bride and groom, of course.  Naturally, as many of you know, I'm  drawn to bright colors, textures, patterns, and the quirkier/more odd/more unique/more interesting the better.


Happy as can be in his new Jordans!




Then outside we went to take advantage of the gorgeous light and beautiful surroundings.  Yes, it was as some might say "a bit toasty," but you wouldn't know just by looking at these next images we captured.  Adrienne + Kevin were photo champs all day long, and when they look back at these in 50+ years, (or even tomorrow) I'm confident they'll still find it was worthwhile to have been warm for a few minutes and take full advantage of what the day + light offered them.  :)  I know I couldn't have been happier!








Gents  +  Ladies.


Ladies  +  Gents.






Bride high-five.  Bride-five?  I love these types of behind-the-scenes shots!




Let's be honest – his footwear totally knocked it out.  I guess of all the wedding elements, he's allowed to have ONE.  ;) 


Amazing bouquets in 3, 2, 1 -


Back to the Tewksbury Country Club for their wedding ceremony + the partay!




More DIY crafty eye candy: 


Of all the country clubs in which I have documented weddings (and it's been a lot of them) TCC is unique in that it has a lot of natural wood and rustic charm much like a log cabin or ski lodge.  The atmosphere is very warm and inviting.






Beautiful cake?  A+.  Custom monogrammed branch/floral cake topper?  Extra credit!


This balcony allowed for a lot of fun photos.










Ceremony time!














Adrienne + Kevin opted to get married on the stone bridge over the pond on the property.  It was such a unique and beautiful location for their ceremony.


Well done, Colleen!








Happy tears.




I think they're excited, can you tell?




Officially married!!


The giant fountains started as soon as the newlyweds sealed their vows with a kiss.  What a great surprise!  










A few quiet moments together as husband + wife..






More happy tears.  <3 


Then Kevin + Adrienne opted for another photo adventure (always a bonus!) so we headed back outside to capture some more portraits as their guests enjoyed the beginning of cocktail hour.  A little time can go a LONG way!












The wind joined us to have some fun. 








Shh, don't tell!  


There was just enough time for a newlywed wedding putt.  


And it was a hole in one!  








Then it was back to join their guests for the celebration!
















































Then  It. Got. Real.  on the dance floor!  No glow stick was left behind. 


















I'll end with some images of a few quiet moments at the end of the night while they caught their breathes and took it all in.  And what a truly, truly fantastic day it was.




To view and/or order prints from their FULL online wedding gallery, simply FOLLOW ME!
A + K – what can I even say that would express how sincerely grateful I am to you both??  I only hope my photo narrative of your wedding day helps remind you each and every time you look back at them of how amazing you both are, how happy I am for you, and how thrilling it was to have been a part of it all.  Big love to you both!